Never ever outdated
Never ever outdated
Client

Ravensburger GmbH

Solution

Google Action, APIs, Database, CMS
The only board game that stays always up to date.
The creative fun and quiz game, which works with the Google Assistant. How far is it from here to Honolulu? Do I need an umbrella tomorrow? And what time is it in Sydney right now? With kNOW! questions come into play that have never been seen before in a quiz game: The free Google Assistant provides the current answer depending on the day, time and location.
The aim of the project was to create a game that really stays up to date. Ravensburger was primarily concerned with the possibility of adding more game mechanics.
Our approach was to create a solution based on CMS and Action on Google that has different questions and game mechanics available for different languages at all times.
The result is an integration that never ever gets outdated its ever changing editorial content. We have implemented the following points:
Designing "Professor kNOW" personality conversational design

Fulfillment of the action on Google in node.js

Development of an international CMS based on React technology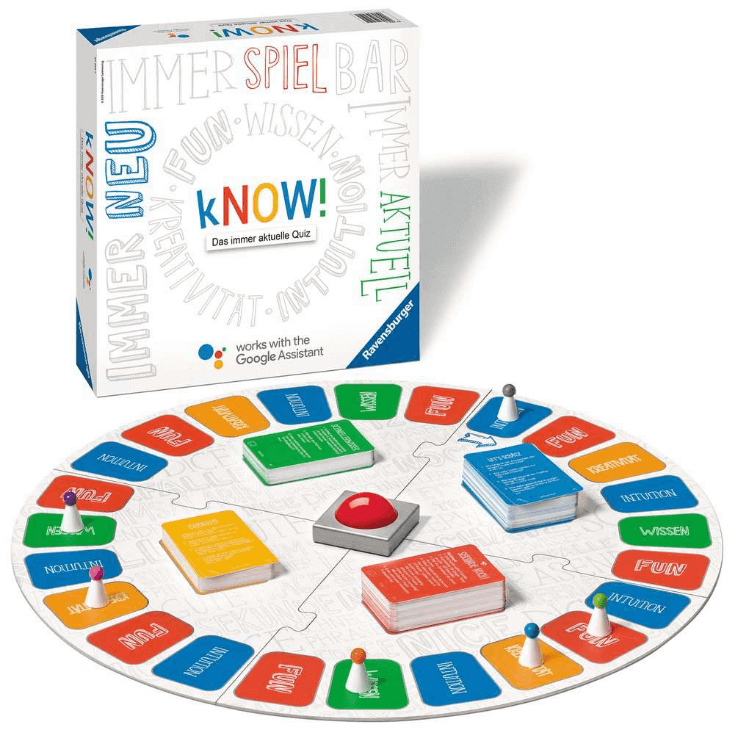 Here is whats the product sounds like
In addition to the rules of the game and the choice of starting player, the Google Assistant also offers a lot of daily changing questions.
The integration can be invoced via "Hey Google, ask Professor kNOW about the rules of the game". As the result a short explanation of the games rules be heard.  So-called one-shot conversations then help to keep the game flowing by focusing on the communication between the players.
Hey Google, ask Professor kNOW for a phrase finder task.
--- ---
YOU WANT TO HEAR FROM US?
Leave us a message and your contact details. We'll get back to you immediately.